We believe that for a 1:1 product to be truly worthwhile you have to use equally effective cannabinoids. That's why we use the same high-quality cannabinoids in our new Boost Balanced 1:1 900mg Tincture that have made our other products so effective. Why force yourself to choose between CBD and THC when in many cases the right answer is both? We use a lab tested THC distillate and CBD Isolate to ensure only the highest quality cannabinoids go into our products. 900mg (450mg CBD / 450mg THC) per 30ml bottle | 30mg (15mg CBD / 15mg THC) per Dropper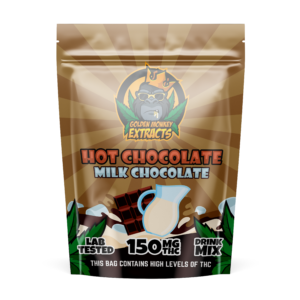 Enjoy the warmth of Golden Monkey Extracts (GME) Hot Chocolate THC beverages. With real Belgian chocolate added in every bag provides a richer experience down to the last drop. Dosed perfectly with 150MG per serving, making long days and cold Canadian nights an absolute joy. GME Hot Chocolate is available in three flavors: milk chocolate, peppermint, and orange. For best results, use hot milk and stir until ingredients fully dissolve.
Strength: 150 mg THC
Servings: 1 serving per bag
With Mota's Canna Cocoa, combine the warm fuzzy feeling of hot chocolate with the cozy feeling of being medicated! Now that's real comfort!
Strength: 150mg THC
Weight: 35 grams
Servings: 1 serving per bag