Consuming your medicine doesn't have to be hard or obvious! Science Lab Clear Shots are easy, convenient and come in the perfect travel-sized containers!
There is 400 mg THC per 30 ml bottle*
THC Content: 13.3 mg of THC per ml of syrup (30 ml total per bottle)
Serves 2-4 times (SHAKE BEFORE USE)
*PRODUCTS INCLUDED SHRINK BAND FOR TAMPER PREVENTION *30ml glass clear bottles with black caps.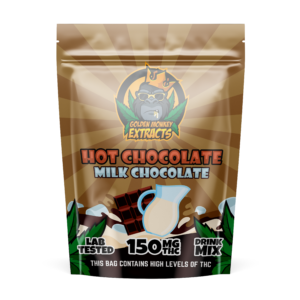 Enjoy the warmth of Golden Monkey Extracts (GME) Hot Chocolate THC beverages. With real Belgian chocolate added in every bag provides a richer experience down to the last drop.Dosed perfectly with 150MG per serving, making long days and cold Canadian nights an absolute joy. GME Hot Chocolate is available in three flavors: milk chocolate, peppermint, and orange. For best results, use hot milk and stir until ingredients fully dissolve.
Strength: 150 mg THC
Servings: 1 serving per bag
The comfort factor makes this tea a natural for measured-dose THC cannabis medication...
Strength: 120mg THC and 20mg CBD
Weight: 30 grams
Servings: 12 servings per bag
Yoni Relax Tea has a perfectly measured dose of THC to soothe PMS and menstrual pains.
Strength: 300mg THC and 100mg CBD
Weight: 30 grams
Servings: 12 servings per bag